Welcome to the Buffalo Grove Garden Club Website!
The Buffalo Grove Garden Club is:
Dedicated to gardening, flower arranging
and community beautification
Our goals are to:
Stimulate the knowledge and love of gardening.
Various meetings have professionals who give a wide range of educational topics on gardening.


Members share their knowledge of "how-to" and other gardening ideas.

Encourage artistic use of flowers
Through speakers and workshops, we learn a variety of arrangements using fresh and dried plant material to encourage artistic use of flowers.
Promote civic beautification
The Garden Club has planted and maintained 5 gardens throughout the village. By working with the Buffalo Grove Park District, we have donated trees, shrubs and flowers.


The club instituted placing in honor of our military a Blue Star Memorial along with a formal garden.
Conserve native trees, birds and plant life
Donations are made toward State wildflower planting programs, a State scholarship fund, and Nature Conservancy.

We also offer college scholarships to local students studying in horticulture, conservation and landscape related fields.
Host Plant Sale
An annual plant sale to fund our many community projects and yearly Scholarship.
Have Fun
In addition to monthly meetings or workshops, we also have a summer garden luncheon, winter holiday party and spring dinner.
---
The 2023 Mum Sale is here!
Check out our community gardens! The Buffalo Grove Garden Club plants and maintains 5 community gardens in Buffalo Grove.
The Gardens on either side of Weidner Rd at Lake Cook Rd.

"The Buffalo" at the BG Park District on Raupp Rd at Lake Cook Rd.

The Blue Star Memorial located at Veteran's Park on Weiland Rd.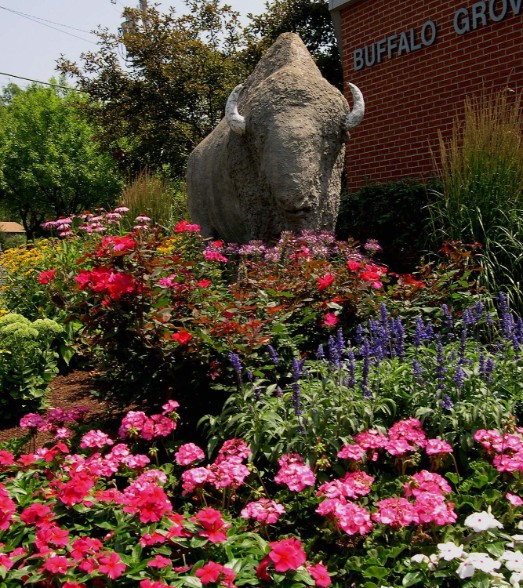 One of our Community Garden Projects - The Buffalo at Lake Cook & Raupp Rd.